Over 20 years of experience in Professional DJ service and Live Events. Playing to best of Bollywood, Bhangra, English Top 40s, Hip-Hop and International music; including Telugu, Tamil, Arabic and Persian. Remember, a DJ can make or break the party. More than 70% of any event is based on music selection and entertainment. The premium service, professional equipment, quality of sound and exquisite lightings that we bring compared to the competing dj's or entertainment services is far superior.
Specializing in Weddings, Anniversaries, Corporate Events, Dinner Parties, Deewali and many seasonal and festive events. .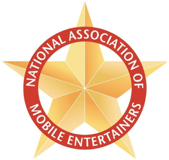 Oh yeah, and we're Insured.
Registered and Certified by the N.A.M.E. (National Association of Mobile Entertainers) and fully insured for any event.